Some of the links in this post are affiliate links.
I have been a stay-at-home mom for several years and I have had to adjust my daily wardrobe to fit my lifestyle. Being a SAHM consists of a lot of running around with my kids and that doesn't give me a whole lot of opportunity to dress up. On most days you'll find me in a pair of joggers and a graphic tee of some sort. I love dressing up, but it doesn't happen very often in this season. Just because I'm dressed down doesn't mean I have to skimp on the style.
Here are 6 Ways To Elevate Any Casual Outfit:
Jewelry
Whether you're wearing jeans and a tee or a sweatshirt and joggers, jewelry will add a perfect bit of glamour and style to that look.
Layering your favorite rings, necklaces, and bracelets will take those sweatpants to the next level. I like to do a lot of jewelry when I dress down, it makes me feel much more glamorous on the days that call for those particular outfits. You can be a bit extra with the jewelry when your outfit is super casual because everything else is toned down.
Sneakers
A good shoe is a vital part of ANY outfit, so the same rule can be applied to those sweatsuit days. I am speaking specifically of sneakers in this instance because that is the shoe that I will reach for if I am wearing any type of joggers, tights, or anything along those lines.
You can have fun here and let the sneaker be the focal point of the outfit. This means you can sort of go all out on your sneaker selection. Whatever you choose, just make sure that it matches and that the shoes are clean and crisp.
These New Balance sneakers stay sold out and I understand why. The color options, the style. I want them in every color!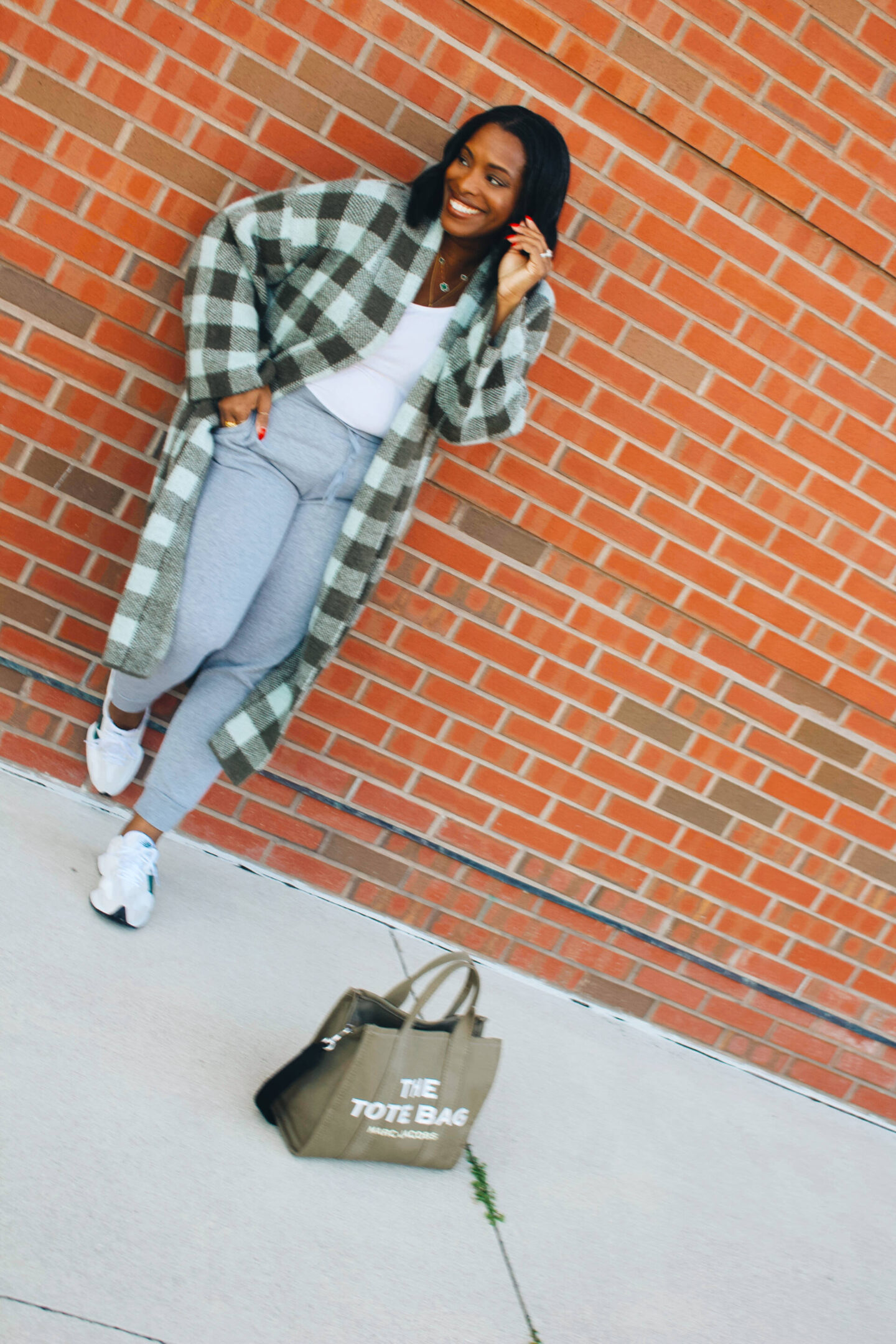 A Statement Handbag
Personally, I feel like a handbag can make or break any outfit. When I am dressed down I am always going to make sure the bag I choose is special.
You don't have to spend a lot of money to get a good quality handbag. The important thing is that it is well made and has a lot of personality. Remember we are talking about elevating your casual outfits. So you want a bag that is going to make a statement.
This Marc Jacobs tote has easily become my go-to everyday handbag. It comes in a bunch of different colors and the price point is just under $200.
Neat and Crisp Pieces
A great way to elevate your casual looks is to choose pieces that are crisp and clean. When you're dressed casually, but still want to feel and look stylish skipping on the old faded t-shirt or sweatpants is a must. Making sure that everything is clean, neat, and pressed will easily take a casual outfit to the next level. It will also make you feel better about yourself!
Sunglasses
Sunglasses are one of my favorite accessories. Put the right pair on and even if you have on pajamas you will look and feel like a movie star. I don't know what it is, sunglasses are an easy way to elevate any look. They are a must-have in any wardrobe and I am of the belief that you can never have too many pairs!
Outerwear
Much like a pair of sunglasses, the right coat will elevate any look. Trust me when I tell you! Throw on a long wool coat over a pair of sweats and people will look at you like you own the world.
Funny story. I was in a local grocery store checking out and I promise you the young lady stared at me until I left. She was either thinking, who does this chic think she is or this girl must be someone important. I really credit that to the coat I had thrown on over whatever I had on that day. I had just dropped my daughter off at school at like 8 in the morning so I'm sure it wasn't anything fancy. It was the coat ya'll!
Some days will call for very relaxed casual outfits, but you can still be stylish even on those days.
Here is a similar post you will enjoy.
Shop This Post