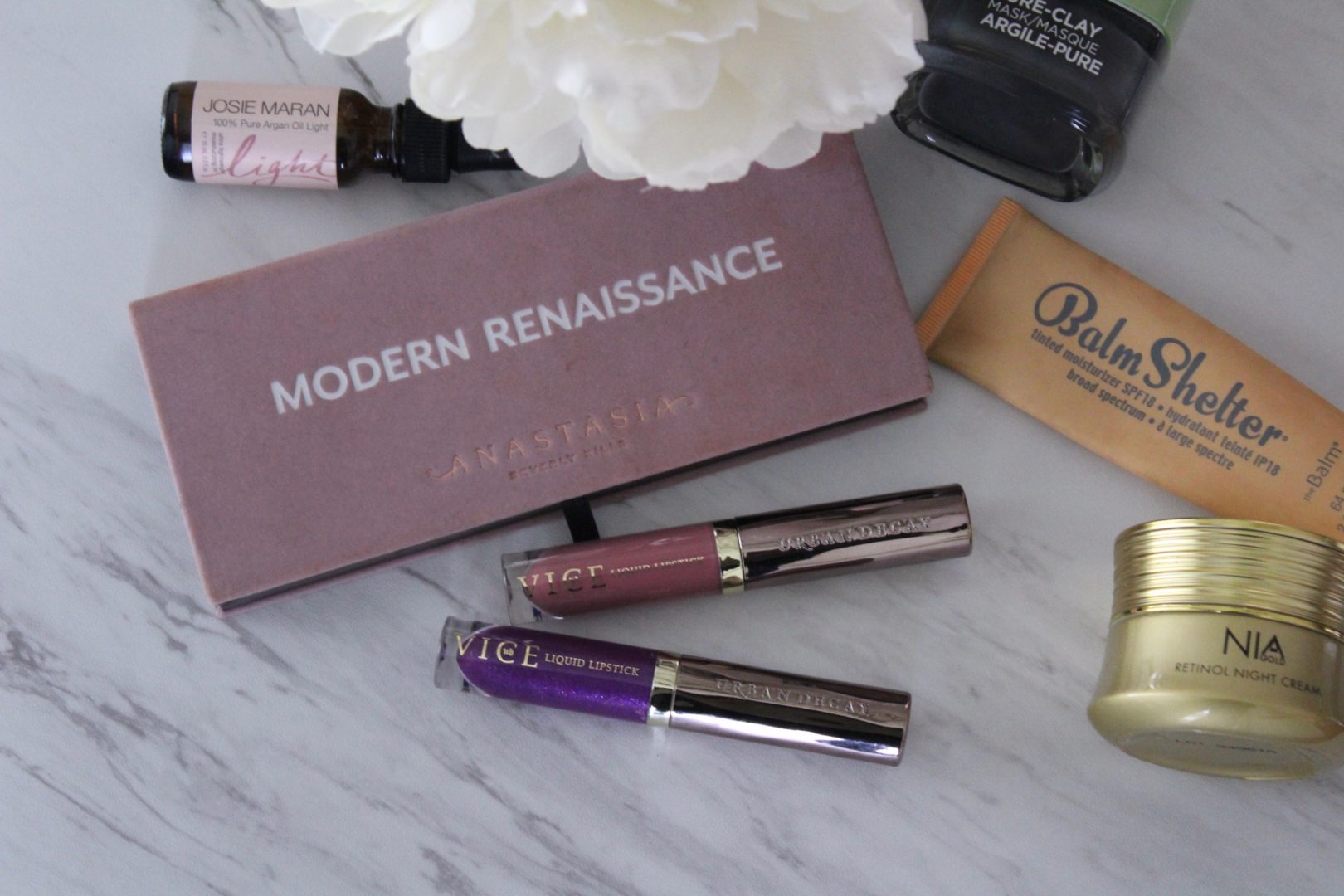 Hi loves! I hope you are doing well. I am so excited to share my favorite and most used beauty products with you guys. These are products I have been using pretty much everyday for the last few months and I am totally obsessed with them.This list is a mixture of some skincare, body care and some makeup items as well…
Skincare
I have had a love hate relationship with my skin for so many years… way too many to count. Through most of my teenage to young adult years I dealt with some pretty consistent acne, but over the last few years my skin has cleared up and I am not upset about it. Right now I'm using a couple of different things to take care of my skin and I'm in the process of finding a complete care system that I can start using on a more consistent basis (any suggestions for that would be great). In the meantime, I mix it up with different products and so far that has worked for me. When I come across good skincare products at good deals I have to try them, that's where these items come in.
This oil is so amazing and I have become a big fan. It comes in this version that is much lighter than the original Josie Maran Argan Oil. As I said before, the J.M. Argan oil is ultra-lightweight and it absorbs quickly which makes it great to use as a daily moisturizer, or a base to wear under your makeup. You can also use it as a nighttime treatment in companion with your normal moisturizer. The Argan oil heals and conditions and can be used in your hair and on your nails. I discovered this on one of my happy trips to Sephora. I was looking for a facial oil to use under my makeup, but I didn't want to pay $40 for the other brand I was looking at. The S.C. offered me this as a less expensive option. I purchased the 0.5oz travel size bottle which retails for about $16 bucks. The 1.7oz and 40z bottles have much higher price points, so the travel size is a good alternative to those if you are trying to stay on a budget. The travel size bottle lasted me a good three weeks so you still get your moneys worth if you opt for that size.
Ok, so this was one of those things I found by accident. A random shopping trip to Marshals is the reason for this amazing product making it into this list. You know Marshals is one those stores where you discover different brands and new things you've never heard of before, at least that is the case for me. (They have an amazing beauty section by the way!) I was casually strolling the area and was attracted to the product because of the packaging. The night cream was an amazing deal at $7.99, so that is what I call a G.P. buy, (general principle). Sometimes you come across things that are such a great deal that you just shouldn't leave the store without it. Once I finally started using it, I noticed an immediate difference in my skin the very next day. I could not believe how amazing my skin looked! It had an apparent difference of being firmer and fresher and younger. The list of benefits of this cream are endless:
▪ Improves skin elasticity
▪ Improves look of blemishes and imperfections (raise your hand if you have those)
▪ Diminishes the look of fine lines and dry rough skin
▪ Diminishes the look of discoloration and redness
▪ Restores elasticity to dry skin
I mean Jesus… this stuff has to be straight from the skincare manufacturer of Heaven. All of this for $7.99, I'm totally here for it! Guys seriously, this stuff retails for like $75. The cream is so good that I picked up another jar of it and the Firming Body Oil by the same brand! This night cream is definitely a must have and if you can find it at your local Marshals store grab as many as you can. They don't always keep the same products in stock so you take a chance of a Hit or Miss.
L'oreal Pure Clay Detox and Brighten Mask
My last item in the skincare category is this mask that I have recently become obsessed with. I love a good mask and this is No Exception! This clay mask does the amazing job of detoxifying skin and drawing out the impurites. It also offers the benefit of energizing and brightening dull skin. The mask is so smooth guys, it glides on like butter and doesn't clump at all. To make things even better this mask only needs to stay on for 10-12 minutes. When it dries it turns green and my husband says I look like Jim Carey in 'The Mask'. LOL!!!!!!
Bodycare
Caress Forever Fine Fragrance Collection
My one and only item in this category is this amazing and inexpensive body wash. The Caress Forever Collection is the world's first body wash with fragrance touch technology. Fragrance pearls release a burst of perfume every time you touch your skin. The glorious and totally addictive smell last for up to 12 hours. There are four unique fragrances to choose from: Love Forever, Mystique Forever, Adore Forever, and Enchant Forever. I have three of the fragrances and they are amazing. BB&W is great, but at this price point you really can't beat it!
Makeup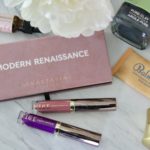 What would a beauty favorites post be without one of my favorite things ever…
The Balm Shelter Tinted Moisturizer
I live in this stuff; this lightweight, light coverage tinted moisturizer with SPF 18 offers sun protection for everyday. Balm Shelter Tinted moisturizer improves the look of your skins tone and texture and leaves you with a polished complexion. I love the fact that it's a moisturizer, because you get the best of both worlds. Light coverage without the cakey feeing, and your skin isn't dry and dull looking the way it tends to be with some foundations. I use the shade After Dark and I have found myself using this almost everyday. I throw this on with some concealer and highlighter for a quick everyday makeup look! It's great for days when I don't have time to do a full face. Which, coincidentally seems like almost everyday.
Urban Decay Vice Liquid Lipstick
I really only started wearing lipstick a few years ago and I don't have a lot of them, but what I do have is quality. The vice lipsticks are great quality. They are cool because they're long wear, highly pigmented and zero transfer. If I had anything bad to say about these it would be that they tend to dry out my lips. That may just be something that I have dealt with but I continue to use them anyway. Urban Decay retails these for about $18.
The last product on my list is:
Anastasia Beverly Hills Modern Renaissance Eyeshadow Palette
Can I just say the lengths that I went through to get this palette are sad. I stood in the store for a good half an hour before I was even able to get one. They didn't have any on the shelves, so I had to wait for a sales rep to get me one out of the bottom cabinet. I was not going to leave without one! What can I say about this palette, other than it is AAAAMAZING! The fourteen gorgeous neutral and berry tones are highly pigmented and glide on easy. I pick this palette up almost every time I go to put on makeup. The pink crushed velvet packaging is so stunning and unique, if you are into makeup even a little bit you will fall in love with this palette the way I did.
These are my best and most used beauty products for the last few months, and I highly recommend every single one of them. I am all about doing things to pamper myself and help me feel good. Take some time and treat yourself to one (or all) of these products. You definitely deserve it!
What are some of your favorite beauty products that you are using right now? Comment and let me know.
Kisses,
Shaunte'
Save