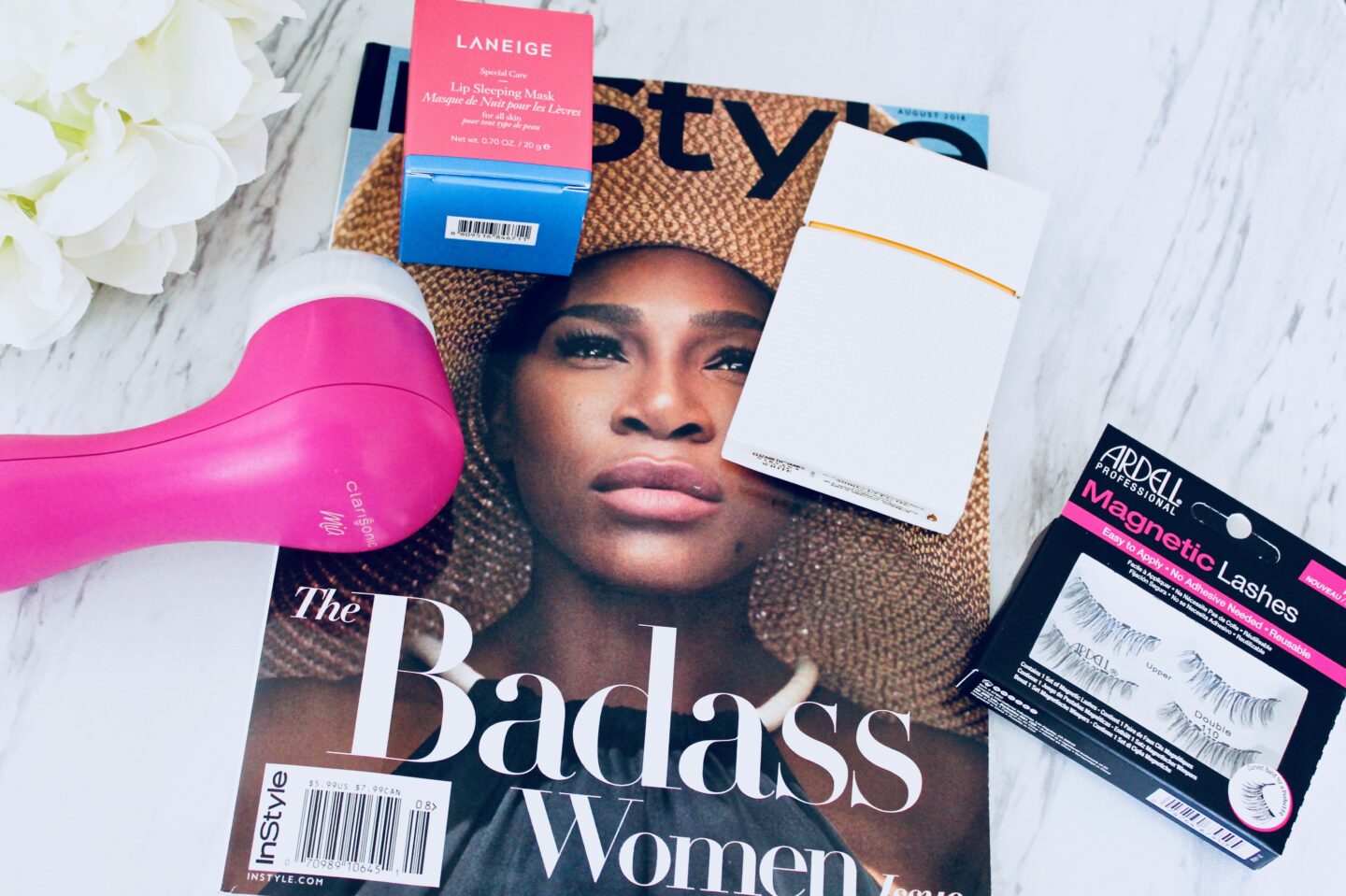 What's up guys! So it's been a minute since I shared some of the things I'm using and totally obsessed with. It's so weird I haven't been shopping a whole lot, or at least not buying a bunch of things I don't need (pause to pat myself on the back). I have been really trying to purchase things that I really need and not do as much impulse shopping. I think as I am getting older I am looking for quality products that work that I will use forever. With that being said, I have rounded up some of the things I am loving and use pretty much everyday. As you can see, my beauty list is longer than all of the other ones (no explanation needed)!
Fashion:
Adidas Tubular Shadow Sneakers
These are one of the most comfortable pair of sneakers I have worn. Not only that, but they are super stylish, and come in a variety of styles and colors. I would definitely say these can be a great starter for someone just getting into the whole sneaker thing.
Beauty:
LaNeige Lip Sleeping Mask
One of my newer beauty finds, from one of my trusty blogger babes! This is an amazing product, I love a good mask in general so when I saw this one for my lips I was sold. The price point sold me I think before the actual product itself. Beauty and skincare can get pretty pricey so the fact that this was only $20 was amazing to me. I am so anal about making sure that I moisturize my lips at bedtime and this stuff covers that for me. It is like that good old chapstick, but in a jar and the smell is amazing!
Elizabeth & James Nirvana White Perfume
I wore this perfume several years ago and when I ran out I never bought another bottle. I recently received it for Mother's Day and fell in love all over again. It's a mild classy fragrance with a woodsy yet feminine scent. It's just a beautiful perfume in a beautiful bottle.
Clarisonic Mia 1 Facial Sonic Cleansing System
I have been wanting one of these babies for years but never wanted to pay for it. One day I was watching HSN's beauty channel (which I love by the way) and they were offering the Mia on the five easy pay plan. Which came out to like $17 and some change a month, so I broke down and purchased one. I wish I had of gotten one a long time ago, because my skin is living it's best life! It has gotten noticeably brighter and firmer and clearer. I can say without any apprehension that it is worth every dime.
Ardell Magnetic Lashes
Let me just say that whoever thought of this should get a Pulitzer Prize for beauty invention. You know technology is to help make life easier and more convenient and that is what I love the most about magnetic lashes. If you have ever applied or tried to apply false lashes it can be somewhat of a headache! Well, the magnetic lashes takes away a lot of that stress and cuts the time of application. If you have never applied false lashes, I would say these are a good place to start.
Ambi Even and Clear Acne Spot Treatment
You know how you have something but you never use it for one reason or another; only to use it and wonder why you hadn't been using it? Sorry, I know that was a lot. This is the case for me and this product, my skin is important to me and when I have acne I try not to pick on it or pop it. I pick this stuff up to use one evening, I applied it to the different places that had some breakouts and when I woke up the next day they were a lot smaller and less visible. Now every time I have any sort of pimple I apply a nice size amount and if I do it consistently, the problem will be almost gone in a few days.
Lifestyle:
Sonix Tortoise Print Shell iPhone Case
I get bored easy with my phone cases and so I'm always looking for a new one. This tortoise print hard shell case is so cute and so stylish, it's the perfect way to ZHOOSH up your phone. It does so much more than just looks cute though, it has an impact resistant bumper that helps protect it when the baby throws it or you drop trying to carry too many things in the house. I know I'm so guilty of that one.
Yankee Candle Car Jar Air Freshners
Having my car smell good is like a necessity for me, and I am in love with Yankee Candle's mini Car Jar air fresheners. If you are a fan of Yankee Candles then you know they have a ton of different scents to choose from, same goes for the car fresheners. I don't think I have a favorite at the moment, because there are so many to choose from. They could be a little pricey compared to like Glade, but the scent options just make it so worth it.
I love sharing products with you guys, so whenever I find something that I love I will definitely be sharing them with you. What products are you loving right now? Let me know in the comments below.