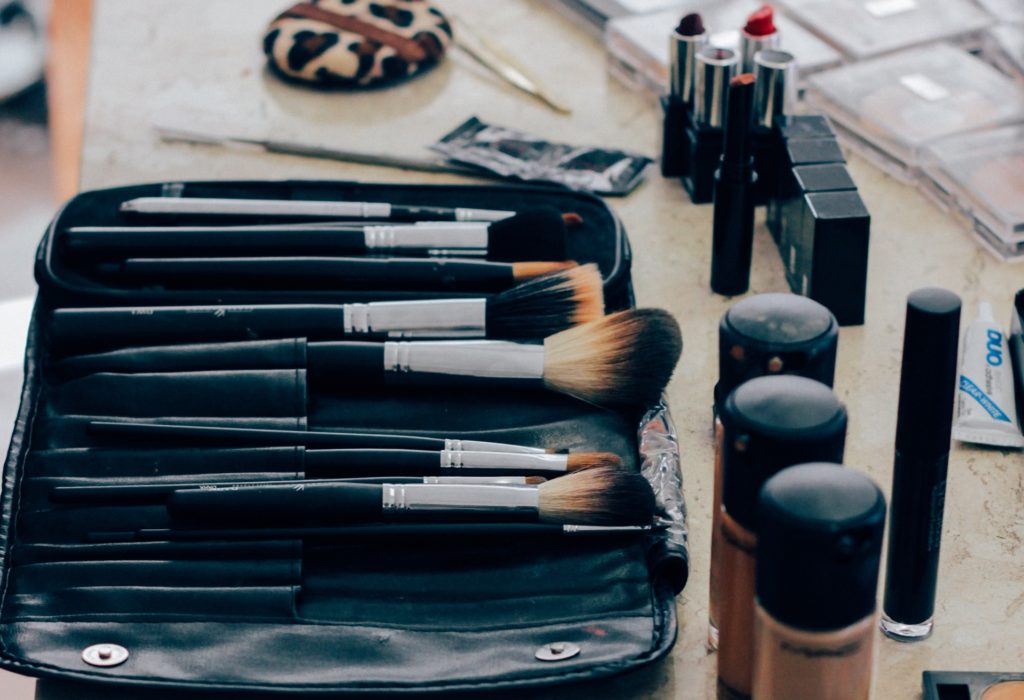 Wonder how the professionals do it? You'll definitely want to read this!
I taught myself how to do makeup by reading and watching other people. I am always learning new trends and techniques to become better. When I find great information you know I have to share it with you. Here are my Top 10 Tips that I've learned just over this last year. They have really improved my application process and the finished product looks so much more professional.
Priming/Setting:

Primer is applied to your face before you put on any makeup. There is a primer for your eyes that goes on the entire eyelid and helps to prevent the eyeshadow from creasing after all day wear. Then there is primer for the face, this is applied over the entire face. Primer gives the product something to adhere to and creates an airbrushed finish. After you've primed your face and applied foundation, you should set it with a loose powder and then with a setting spray. This is what the pros do with any makeup application. Your makeup will last all day and you will have less transfer. These steps you could say are the trifecta of any great makeup job.

Lip Liner:

This tip may seem so trivial, but it is truly a must before applying any lipstick or lipgloss. The liner is like the transition from your face to your lips, it creates a barrier and helps your lipstick last longer throughout the day. This is one thing a professional makeup artist will always do before applying your lipstick.

Cleaning Your Brushes:

This is another one that might seem small but it's a pretty big deal. Keeping your brushes clean is vital to the health of your skin. Cleaning your brushes regularly prevents bacteria and germs from growing and causing infection. Cleaning them once a week is the safest option; if that is unrealistic try an antibacterial refresher spray. You can spray them after each use and between cleaning. Try these great cleaners and sprays from E.L.F. 🙂

Cleansing Your Skin:

You should thoroughly cleanse your skin after you remove your makeup. Even as much as I love makeup, at the end of the day I just want to feel my skin and let it breathe. I usually remove as much makeup as I can with a makeup wipe and then cleanse with a mild facial cleanser. I always use a white or light color face cloth, because it helps me see when I have removed all the makeup. (I got this trick from a friend of mine who is a makeup professional.) It's great for me because I will breakout if my face isn't completely clean.

Foundation and Concealer:

I recently found out that I have been doing this step the wrong way. The most important part of the whole makeup process and I've been doing it wrong… go figure! You apply your foundation first all over the face and then you do the concealer step. The concealer is then blended into the foundation. I was doing it in reverse! LOL! Now that I am doing it properly it has made a big difference.

Highlighting and Contouring:

Makeup is all about creating illusions and playing with light on the face. This is one of the coolest makeup tips and one of the hottest trends in makeup right now. Contouring is basically playing up on dark and light. You are essentially adding the lighter colors where the light naturally hits your face. The darker colors are added to create dimension and definition to the cheek, temples and jaw bone areas. Highlighting is placing light bronze or shimmer to the highest point of the cheekbones. This gives the illusion of a dewy glow to the skin. There are heavier and lighter applications of this step, you decide based on the time of day and the intensity you are going for.

Color Correcting:

I literally just learned about this trick a few weeks ago. This is definitely one of those professional "trade" secrets. In it's simplest form it is using opposing colors to cancel out areas of darkness or hyper pigmentation in the skin. For example, the color orange cancels out the darkness that I have around my mouth and under my eyes. I would not dare get into the particulars of color correction. I would suggest looking to a professional to learn how to do this. Check out this video on color correcting here.

Blending:

This is the simplest tip and one of the most effective. There is a term the pro's use, "lines of demarkation" this is the obvious places where you can see where different colors and shades have been applied. Blending brings all of the colors together to make them look seamless. Blending also gives an airbrushed look to any application on the eyes or face.

Continue Learning:

The cool thing about internet and technology is that you can find out how to do anything. There are so many great tools out there that will help you perfect your makeup artistry skills and take you from an amateur to almost pro. Here are some great video bloggers that I follow that have helped me. These are just a couple but there are tons more. Jackie Aina on YouTube; Chanel Boateng on YouTube

Practice Makes Perfect:

At the end of the day, no matter what tips you learn you have to do them over and over in order to get better. Keep at it ladies and have fun with it!
Kisses,
Shaunte'
What are some of you guys favorite makeup tips? Share them in the comments below.
*Check out this post for all you makeup newbies. 🙂 Makeup 101: Getting Started
FIND YOUR PASSION. DEFINE YOUR STYLE. EMBRACE YOUR BEAUTY.
Save
Save
Save
Save
Save
Save
Save
Save
Save
Save