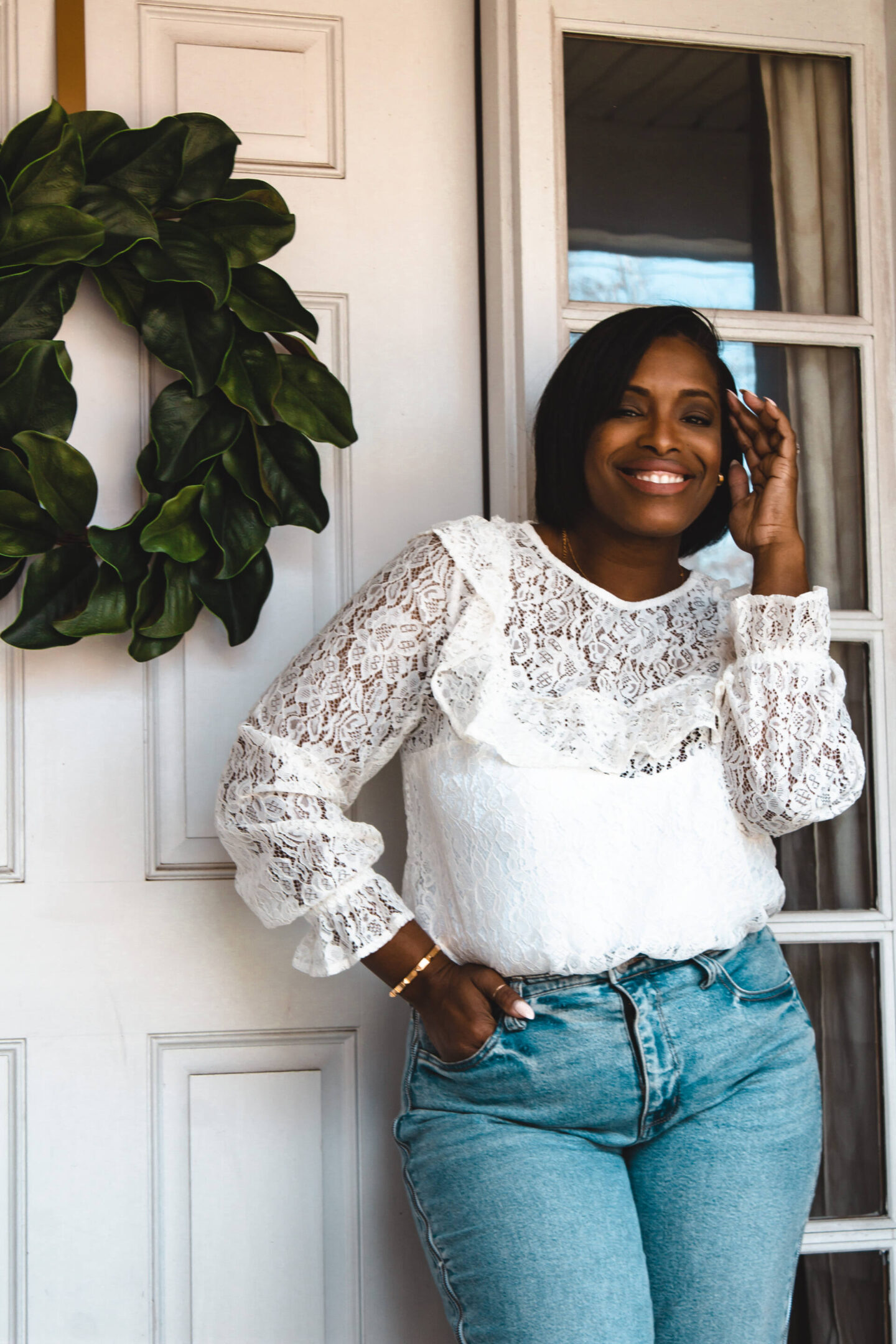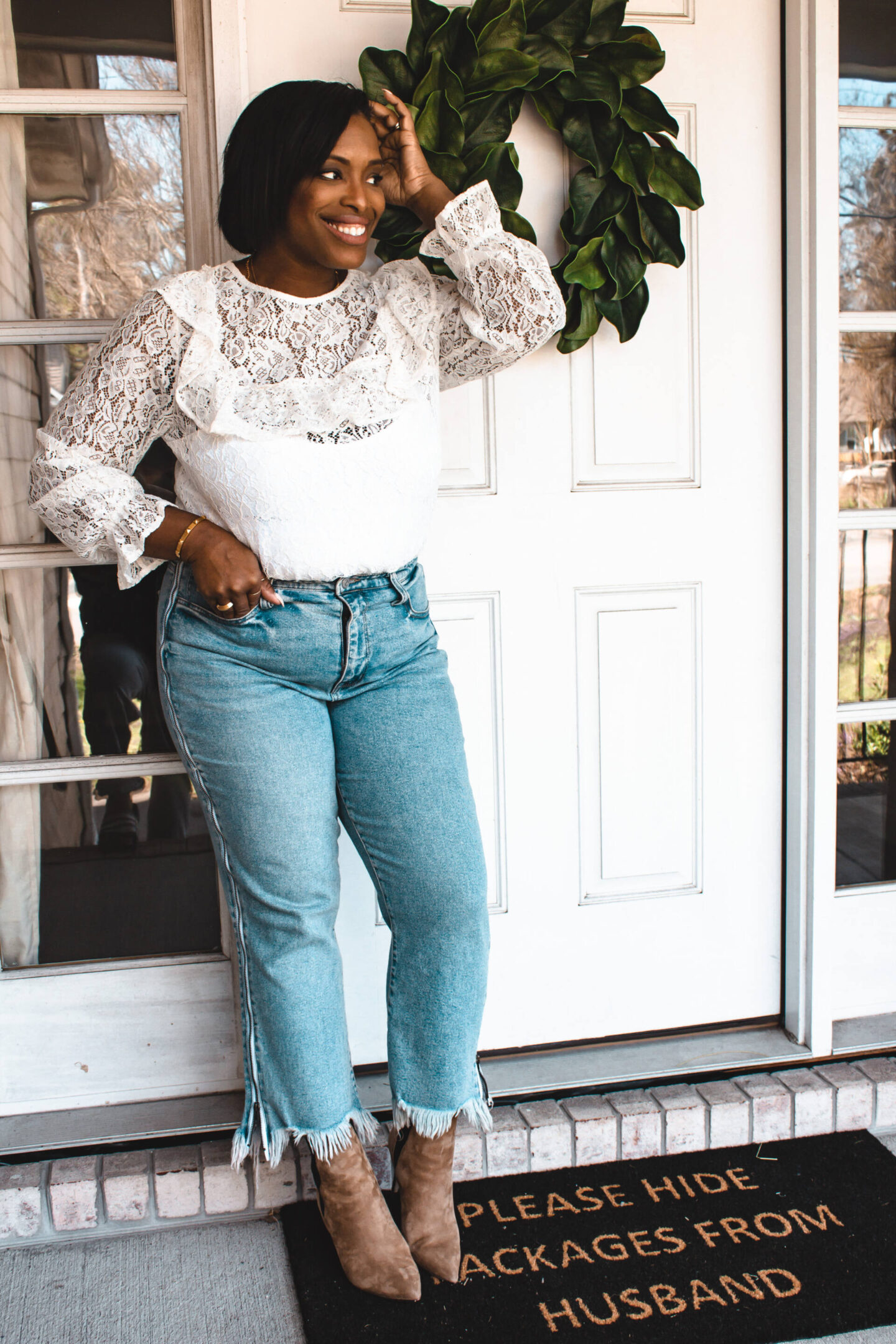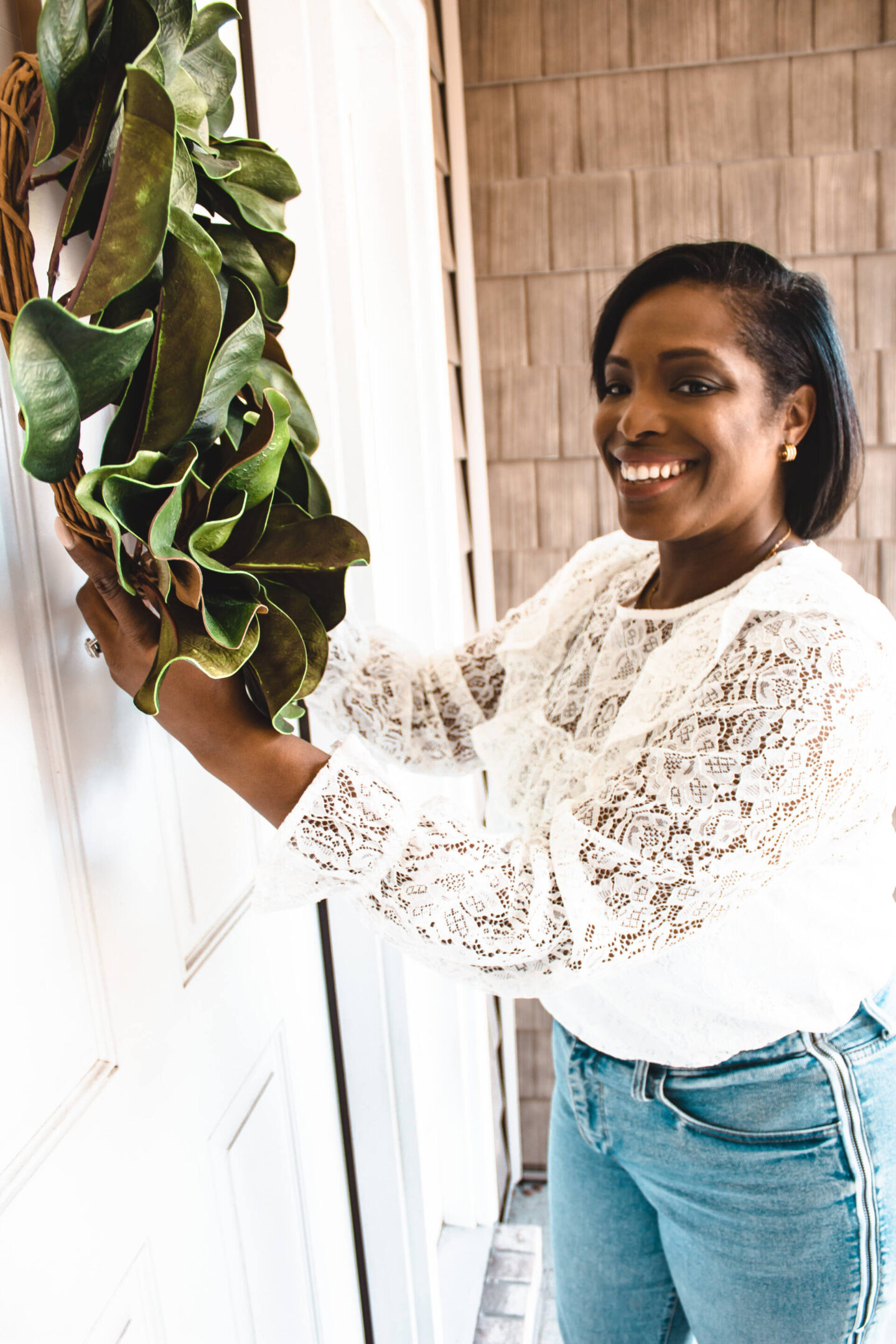 Lace Blouse | Jeans (old) similar here | Boots
Spring is in the air and that means it's time for flowers, color, and cleaning. I love this time of year. Everything feels new and it's a chance to refresh.
I'm on a mission to lighten things up and declutter my life as much as possible. I have come up with a few ways to get that done and of course, I want to share them with you guys.
Here are 9 ways to brighten and de-clutter for spring:
Add Colorful Accents to Your Home
Brightening up your life will help you get in the feel of the Spring season. Adding color is a great way to accomplish this.
Kitchen/bathroom towels and throw pillows are a perfect way to bring in the season. These small accents can give your home a fresher lighter feel and will seriously brighten up your living space.
Placing a pretty floral wreath on your front door will give your home that springy feel from the outside.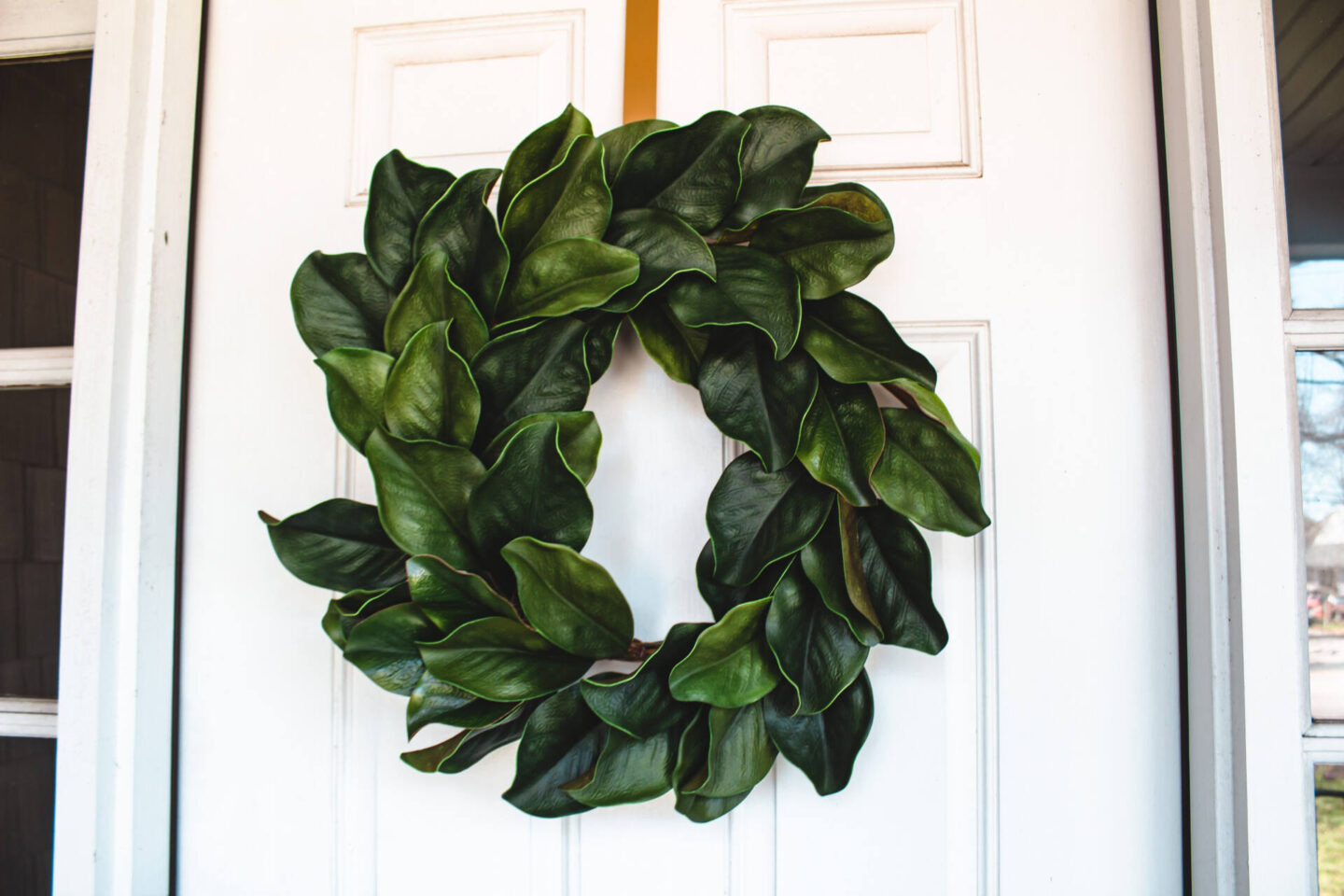 Wreath (similar here and here)
Flowers
You can never go wrong with flowers any time of the year, but there is just something about those bright beautiful colors that will lift your spirits and make it truly feel like the season has changed. Fresh flowers will also give you the smell of a Spring garden. If you don't like the up-keep of real ones, silk flowers can accomplish the same task. You can achieve the fresh flower smell by adding a floral mist or spray to them.
Candles
Adding the smell of Spring in you living and working space is another great way to bring in the season. Candles come in a bunch of different scents and different variations; finding the right ones will be easy.
Add Florals and Color to Your Wardrobe
A pretty flowy dress or a beautiful sheer blouse is another great way to get Spring in full swing. Color can be a scary place for some people when it comes to clothing. Trying on different pieces until you find what makes you feel confident and sexy are key to conquer these fears. It's all about finding the perfect fit and the perfect shade. If you are totally not feeling the whole color thing, nudes can also achieve that light and bright feel.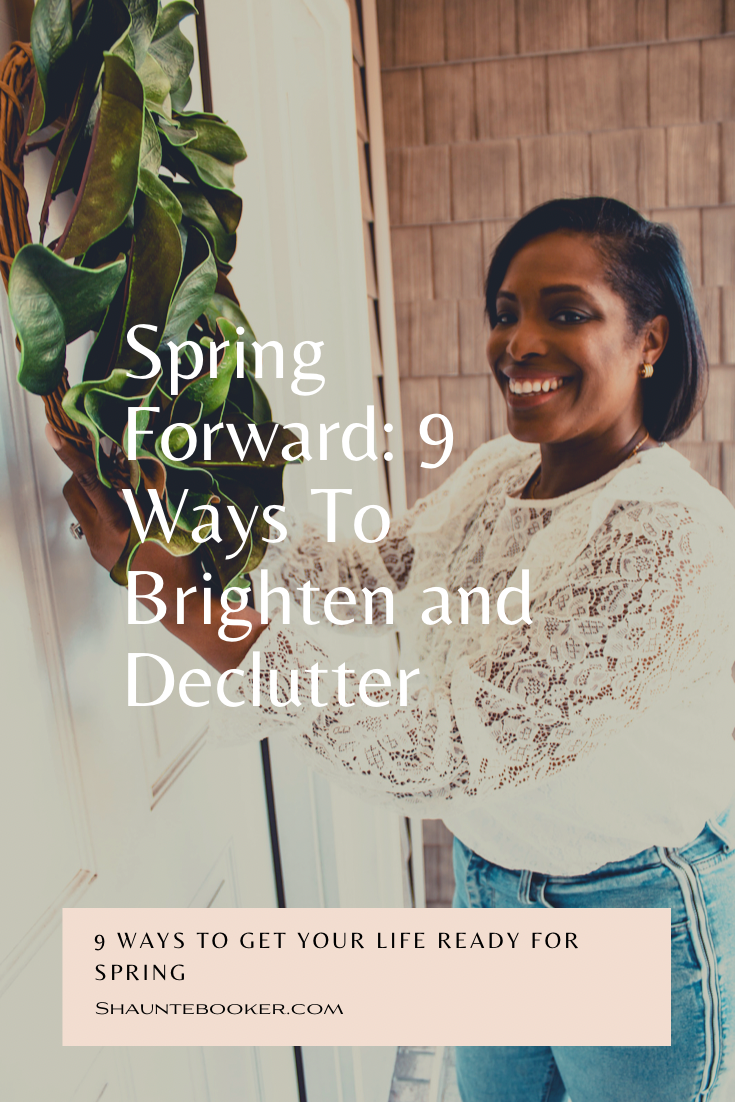 Change the Screensaver on Your Devices
Adding pretty flowers and colorful images to your homescreen on your smartphone or laptop can make you feel more like spring. It's a small thing, but it can make a big difference overall.
*I love theverygirl.com they have free downloadable tech backgrounds for every season.
Colorful Nail Polish
One of the best parts of being a girl is changing your nails to match whatever the season is. Pastel pinks and nudes will make you feel so pretty and even happy.
Purge Your Closet
Decluttering is a big part of preparing for the Spring season. Purging and throwing out things will remove the bulk from your life and make room for new things.
You guys know I am big on getting rid of clothes that you aren't wearing. Springtime is a perfect reason to just go ham and donate all those things you haven't worn in a year. Check out my post on how to clean out your closet here.
Clean Out Your Garage
My garage is a hot mess, and that is putting it mildly. This is on my to do list for this spring cleaning season. Now, if I could just get my husband on board. Anyway, this is another area in our homes that just tends to collect so much unnecessary junk. Checking this off your list seems like a mighty feat, but I know it would probably take about ten years off your life! LOL!!!
Clear Out Closets, Drawers, and Cabinets
We all have those junk drawers with random papers and tools and extra chic fil a sauces. Maybe your coat closet has more than just coats, girl mine has a printer and some other stuff I don't even know what it is. Whatever your situation, Spring is a perfect time to clean that stuff out. Just like that garage it will take some years off your life or at least make you feel lighter.
Thanks for reading guys. Who is ready for spring? I know I am! What are some of the things you're doing to get in the mood for Spring?