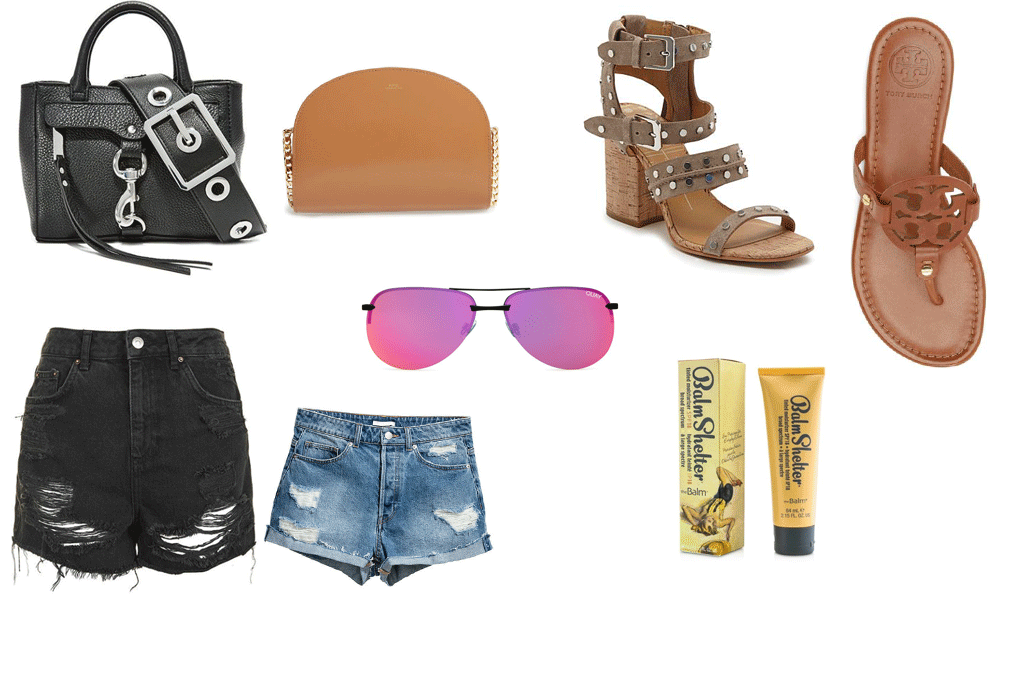 Summer is here and the heat is so real. When the warm weather comes you want to simplify and minimize pretty much everything. Especially what you are wearing and using everyday. These 5 items are my picks for summer that are a must to stay cool and keep things light and easy.
The first item in on my list:
1. A Crossbody Bag
A crossbody bag is essential for those lazy summer days. Whether you're going to the beach, the movies, or to an amusement park a good crossbody bag will guarantee you an easy hands free day. I love a big bag as much as the next guy but sometimes I don't want the bother of all that bulkiness. This style bag is perfect for summer and definitely a must for the warm seasons.
2. Sandals
A great pair of sandals are not just a must have they are an absolute necessity . What would summer be without a cute pair of sandals? They are comfy and keep your feet cool. Sandals are typically slide in or single strapped and are a perfect No Muss, No Fuss alternative to a ballet flat. I always like to throw in a pair of heels because I'm a high heels kind of girl. A block heel is a more comfortable option to a stiletto and a lot easier in the summertime. Whether it's a flat sandal or a block heel these are a must have in your closet for those warm months.
3. Denim Shorts/Cut-offs
These are a classic and timeless piece of clothing that will Never go out of style! You can keep these and have them in every color. Whether you dress them up or dress them down you will always look super stylish. I love a good pair of denim cut-offs. I also love the fact that you can D.I.Y. denim shorts. If you have an old pair of jeans that you haven't worn in a while, take those bad boys and get to chopping. You can distress them and create a brand new piece of clothing in no time. These are definitely a must have and you can never have too many pairs.
4. Shades
I love a cute pair of sunglasses and I wear them all year long. But a hot summer day would not be complete without a great pair of shades. They come in so many different styles and shapes and sizes you won't have any problem finding a pair that are perfect of you! There is nothing like the right pair of sunglasses to accessorize and complete any outfit.
and lastly…
5. Tinted Moisturizer
Now if you have followed my blog or social media for any amount of time you know that I LOVE MAKEUP! In the summertime though, most days it is too hot to wear that heavy foundation. I really just recently started to wear tinted moisturizer and I am totally hooked. Tinted moisturizer is an amazing addition to my makeup collection and is perfect for the hot weather. It's light weight, with light to medium coverage so it doesn't feel cakey. They come in many different forms for all different skin types and issues so finding the perfect one will be a cinch! I talk about my favorite tinted moisturizer in this post here.
What items are you using this summer to stay cool and stylish?
Kisses,
Shaunte'
Shop This Post
Crossbody Bags: Rebecca Minkoff Grommet Crossbody || A.P.C. Sac Luna Leather Shoulder Bag
Sandal: Dolce Vita Effie Leather Block Heel || Tory Burch Miller Flip Flop
Denim Shorts/Cutoffs: Top Shop Ripped Mom shorts || H&M Short High-Waist shorts
Sunglasses: Quay Australia 'The Playa' shades
Tinted Moistrurizer: The Balm Tinted Moisturizer
Find Your Passion. Define Your Style. Embrace Your Beauty.