If you have been following me for any length of time you know that I am not a trendy person. I don't really follow trends, especially when it comes to fashion. Trends change so much that you will buy something one day and the next there will be something new that pops up.
Having too many trendy pieces in your closet makes it difficult to get dressed every day and won't allow you to have a well-rounded wardrobe. I usually watch trends for about six months, if it seems to be something with staying power then I look to see how I can make it work with my personal style. Sometimes there is a piece that I really love and I will add to my wardrobe, but that doesn't happen very often.
Figuring out what trends work with your style can be challenging, so I have rounded up a few of the fall trends that I think are absolutely worth buying into. These trends are elevated classics that will easily fit your personal style and won't have you feeling like you wasted your money on something that won't be stylish in six months.
Here are 5 Fall Trends Worth Buying Into:
Lug Sole Boots
Fashion is a cycle and I am positive that I wore something similar to this in high school. LOL!
Lug sole boots are very functional and will easily carry you into the winter months. They come in a bunch of colors and variations and look good with everything from jeans to dresses.
Knit Sets
This really is a classic in my opinion. Knit is not a new thing, but the sets that come with matching tops and bottoms have really been hanging in there the last few years.
You can find so many variations of this trend and the price points are super reasonable. I personally love the sets with the sweater and skirts. Knit sets can also be worn as separates, this adds variety and options to your everyday wardrobe. The knit sets look so good on every body type and the comfort level is beyond! They can also be dressed up or down. This is probably the most functional and practical trend on this list.
Faux/Genuine Leather
If you are going for the rich aunty vibes, then leather anything is the way to go. Leather blazers are staying strong and I don't see them going anywhere anytime soon. And leather shorts are a classic piece that I think every girl should have in her closet. The Leather trend is also super versatile and comes in different price points that will work with any budget.
Chunky Loafers
If I am being honest, I wasn't super fond of this trend at first. When I see a trend in fashion the first thing I am looking for is practicality. Will this item work for me on a daily basis? As a busy mom of three, most days I am in jeans or sweats and a tee. I need a shoe that I can slip on and this chunky loafer trend is definitely an elevated basic that works for every day.
Finding a quality pair that fits well is the key to making this trend work for you.
Shackets
The shacket (shirt-jacket) is another elevated basic. This trend takes a flannel or plaid shirt and kicks it up 10 notches by marrying it to a coat. It's a genius idea that has managed to remain on-trend over the last year and I don't see it being something that goes "out of style" so to speak.
This piece will transition into winter with ease and gets 4 stars in the versatility department. Of all the ways you can wear the shacket I think the coolest way is buttoned up and worn like a dress. I saw an influencer-style one this way on Instagram and it was super cute.
The biggest thing with any trend is, making it work with your personal style. Whatever piece you choose, being able to own it and rock it is key! Trying something new is a little scary, but it's also fun and can take your style to a whole other level.
Which one of these trends are you excited to try?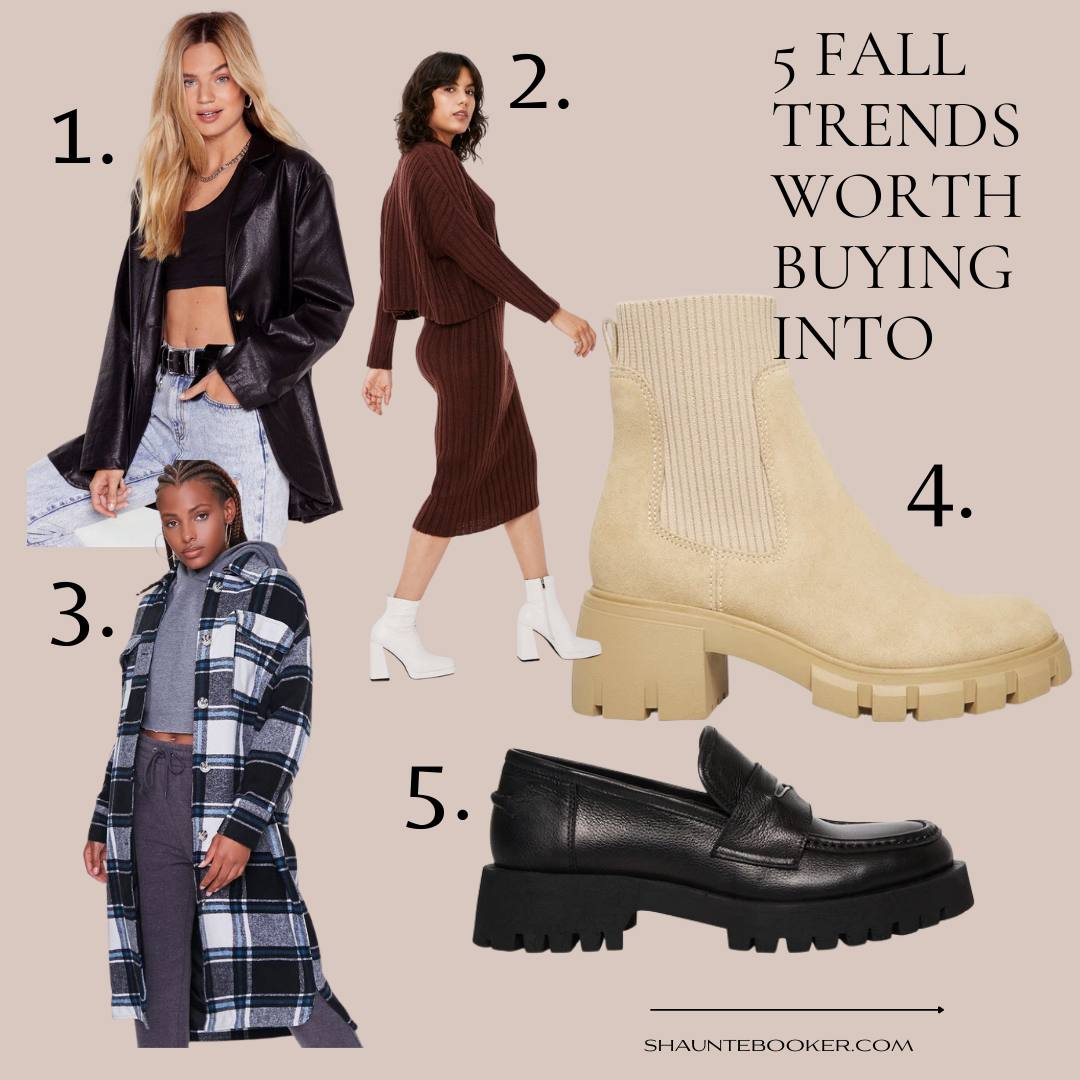 Faux Leather Blazer || 2. Knit Skirt Set || 3. Shacket also here and here || 4. Lug Sole Boots || 5. Chunky Loafers and these if you don't like chunky.
OUTFIT DETAILS: Sweater – Zara || Faux Leather Shorts || Sam Edelman Boots- similar here and here || Bag- Louis Vuitton || Sunglasses and similar here
This post may contain affiliate links, which means that I may receive a commission if you make a purchase using these links.